DIY Glass Blocks In Kits for the Handyman or Builder

Glass Block or Glass Brick (as they are sometimes called) walls are now affordable to the average handyman. Here at DIY Glass Blocks we supply you with the full kit to build your own internal or external Glass Block wall.
In today's modern architectural homes and buildings Glass brick walls are effective in generating open spaces and light whilst offering security and privacy to areas like bathrooms and sun rooms . Glass blocks allow you to bring the outside in without the noise and pollution sometimes surrounding them.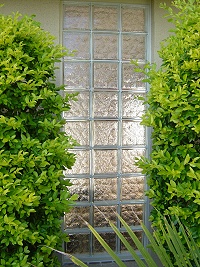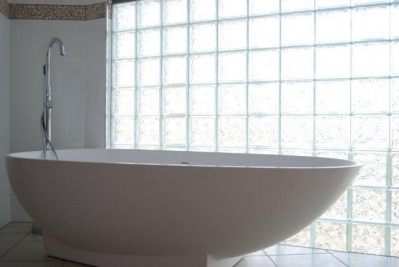 Glass Brick Kits include Everything.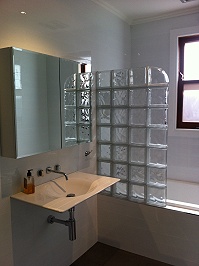 Our Easy Finish kits include the glass blocks, separator strips, wall anchors or external frame as applicable, glass block adhesive and glass block silicon sealant.
This means that you the handyman or builder need only supply labour and some frame fixing screws.
Advantages of Glass Bricks!
Energy Saving - Glass bricks are hollow inside , this provides for greater heat insulation, better than double glazed glass. Hence the Glass Block is an energy saving building material.
Various patterns permit for light control from transparent and non-transpartent, allowing choices in your applications.
Reduced Noise - Glass bricks offer better noise reduction than double glazed glass panes.
Safety- a glass block wall when properly installed is stable, wind and earthquake resistant, and offers protection against criminal elements
More agreeable environment- transparent and semi transparent glass blocks permit viewing of the outside environment whilst negating the need for curtain and blinds, hence removing the "trapped" feeling offered by traditional glass pane windows and curtains.
Maintenance Free- glass block walls are simple to clean, and condensation free. This makes them an ideal building product in your application
Internal or External walls and windows - Glass blocks are suitable for internal or external applications.
No painting - a glass brick feature wall needs no painting, our external wall frames are powder coated for long life.
Faster and easier installation than all methods currently available and at a lower cost
Ease of assembly by the home handyman
Enhanced Finish

CLOUDY


CRYSTAL PARALLEL


DIRECT


DOUBLE STAR



FROST BISTAR


ICE FLOWER


JEWEL


LATTICE


PARALLEL


SEA WAVE


TANGERINE SKIN A


TANGERINE SKIN B


WATER BUBBLE
Coloured Blocks
Please contact us direct if you would like to order these
| | |
| --- | --- |
| CLOUDY BLUE | CLOUDY BROWN |
| CLOUDY GREEN | CLOUDY GREY |
| CLOUDY PINK | CLOUDY SAPPHIRE |
How to Order Your Glass Blocks in Kit Form
Choose if you require the full kit or just the installation kit.

Choose if internal or external application.

Select the wall height.

Select the width of the wall.

Select the glass block style.

Select your delivery area.

Select payment method.

We ship generally next day.

Start Building
Here at DIY Glass Blocks we use the Silicon System, this allows DIY builders and Handymen, to build walls and panels that look professional and attractive in the fastest time. Our special Glass block adhesive silicon is used to bond the glass bricks to the separator strips and each other. This system relies on smaller gaps between glass bricks and a more appealing finish.
Mobile number: 0431 547 194